A extensão universitária e o exercício da práxis no campo informacional
práticas para apropriação da informação e do saber
Keywords:
Information Literacy, Competência em informação, Extensão universitária, Universidade, Desinformação, Infodemia, Universidades Públicas, Disinformation, Infodemic, Public Universities, University Extension
Abstract
Discorre sobre aspectos das relações entre os saberes e fazeres construídos nas universidades públicas brasileiras e na sociedade, focados nos debates sobre infodemia e desinformação, tendo por base três ações de extensão universitária, em 2020, entre a Universidade Federal do Rio de Janeiro e a Universidade Federal do Estado do Rio de Janeiro com bibliotecas escolares e comunitárias. Para tanto, entende-se competência em informação como o conjunto de saberes e práticas articulados dialogicamente que possibilitam a construção do pensamento crítico, da avaliação criteriosa e do uso solidário e ético da informação, bem como a tessitura de estruturas que promovam ações cidadãs e engajadas com o bem comum. Destaca-se o protagonismo das universidades públicas nas soluções para a pandemia na sociedade brasileira, principalmente no fortalecimento de ações oriundas de projetos de extensão e no debate sobre a relevância do ensino superior e da educação como bem público.
References
American Library Association. Association of College & Research Libraries. Framework for Information Literacy for Higher Education. 2016, www.ala.org/acrl/standards/ilframework. Accessed 10 July 2020.
Buffa, Ester and Canales, Renata P. "Extensão: Meio de Comunicação Entre Universidade e Comunidade." EccoS Revista Científica, vol. 9, no, 1, 2007, pp. 157-169.
Chaui, Marilena. "A Universidade Pública sob Nova Perspectiva." Revista Brasileira de Educação, no. 24, 2003, pp. 5-15.
Dellors, Jacques. "Los Cuatro Pilares de la Educación". Educación Encierra un Tesoro. El Correo de la UNESCO, 1996, pp. 91-103.
Fernandes, Florestan. Universidade Brasileira: Reforma ou Revolução?. Expressão Popular, 2020.
Freire, Ana Maria Araújo. "A Leitura do Mundo e a Leitura da Palavra em Paulo Freire." Cadernos CEDES, vol. 35, no. 96, 2015, pp. 291-298.
Freire, Paulo. Pedagogia do Oprimido. 65th ed. Paz e Terra, 2018.
Information Literarcy Group UK. CILIP Definition of Information Literacy 2018. cdn.ymaws.com/www.cilip.org.uk/resource/resmgr/cilip/information_professional_and_news/press_releases/2018_03_information_lit_definition/cilip_definition_doc_final_f.pdf. Accessed 12 Oct. 2020.
Leher, Roberto. Autoritarismo Contra a Universidade: O Desafio de Popularizar a Defesa da Educação Pública. Expressão Popular, 2019.
Organização Pan-Americana da Saúde. "Entenda a Infodemia e a Desinformação na Luta Contra a COVID-19." Página Informativa, no. 5, 2020, iris.paho.org/bitstream/handle/10665.2/52054/Factsheet-Infodemic_por.pdf?sequence=14. Accessed 9 Oct. 2020.
Organização para a Cooperação e Desenvolvimento Econômico. Combatting COVID-19 Disinformation on Online Platforms, 2020, read.oecd-ilibrary.org/view/?ref=135_135214-mpe7q0bj4d&title=Combatting-COVID-19-disinformation-on-online-platforms. Accessed 9 Oct. 2020.
Paula, João Antonio de. "A Extensão Universitária: História, Conceito e Propostas." Interfaces: Revista de Extensão, vol.1, no.1, 2013, pp. 5-23.
Santos, Boaventura de Sousa. A Universidade no Século XXI: Para uma Reforma Democrática e Emancipatória da Universidade. 3rd ed. Cortez, 2010.
Wardle, Claire, and Derakhshan, Hossein. Information Disorder: Toward an Interdisciplinary Framework for Research and Policymaking. Council of Europe, 2017, rm.coe.int/information-disorder-toward-an-interdisciplinary-framework-for-researc/168076277c. Accessed 9 Oct. 2020.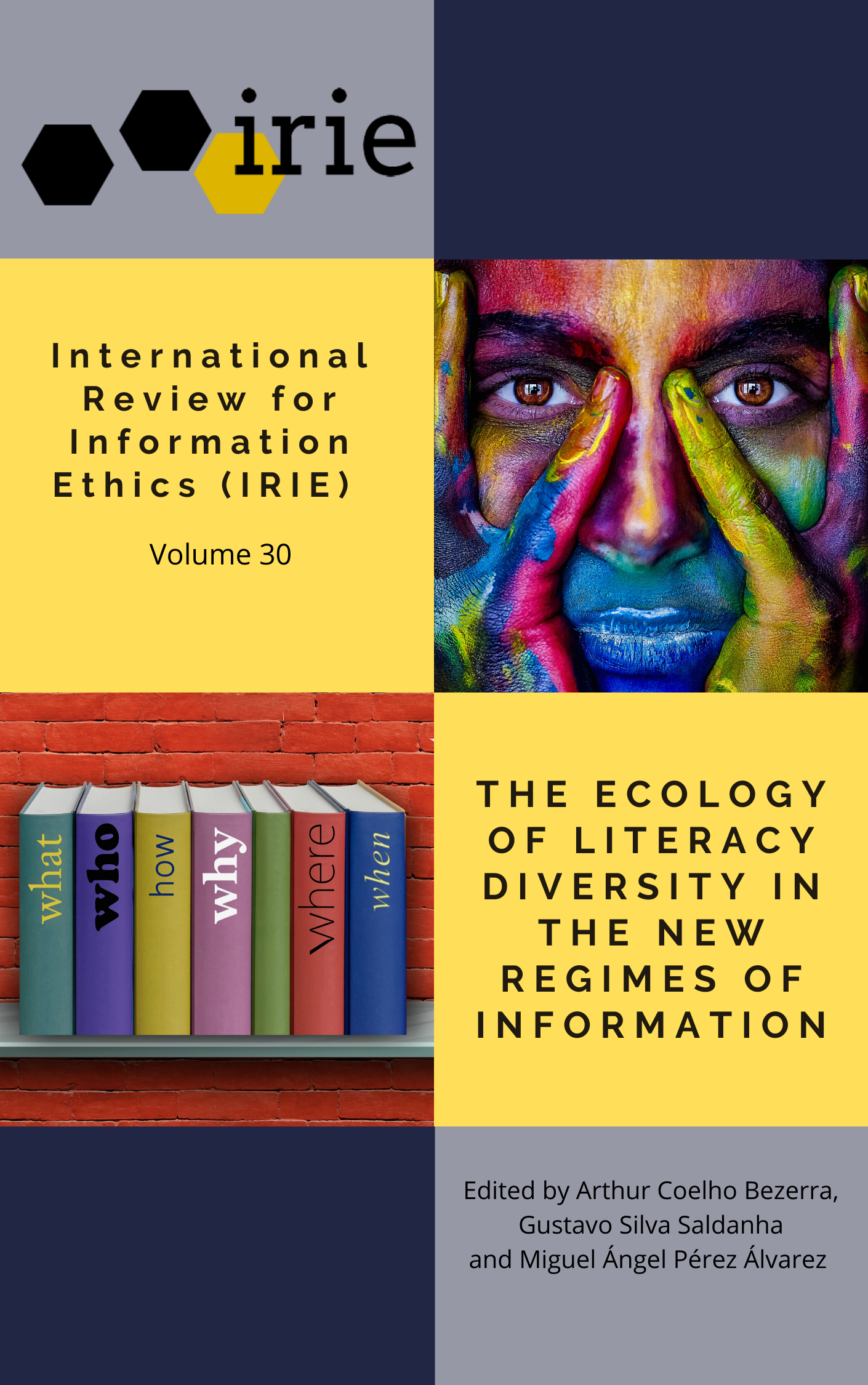 Downloads
How to Cite
Calil Junior, Alberto, Nysia Oliveira de Sá, and Marianna Zattar. 2021. "A extensão universitária E O exercício Da práxis No Campo Informacional: Práticas Para apropriação Da informação E Do Saber". The International Review of Information Ethics 30 (1). Edmonton, Canada. https://doi.org/10.29173/irie399.