Multilingualism in cyberspace: a practical reality?
Keywords:
Communication, Cyberspace, Languages, Linguicide, Multilingualism, Translation
Abstract
The loss of a language is often phrased in catastrophic terms despite the evolution of languages being a quite natural process. Here we discuss language loss and language use in the digital domain. We note that while English still dominates cyberspace, other languages are growing rapidly, so it seems likely that the future will not be monolingual but multilingual. We show that efforts to mandate the use of minority languages are unlikely to be successful and can backfire. The question therefore arises of how best to handle minority languages in the digital domain. This article argues that the best, and maybe the only, solution is high-quality machine translation.
References
Barrault, Loïc, Ondřej Bojar, Marta R Costa-jussà, Christian Federmann, Mark Fishel, Yvette Graham, Barry Haddow, et al. 2019. "Findings of the 2019 Conference on Machine Translation (WMT19)." Proceedings of the Fourth Conference on Machine Translation (Volume 2: Shared Task Papers, Day 1). Florence, Italy: Association for Computational Linguistics. 1--61.
BBC News. 2006. "Bladder alert lost in translation." August 15. Accessed October 30, 2021. http://news.bbc.co.uk/1/hi/wales/south_east/4794753.stm.
European Commission. 2021. Annual Actvitiy Report 2020 DG Translation. Brussells: European Commission. Frank, Roslyn M. 2008. The language-orgnaism-species analogy: A complex adaptice systems approach to
shifting perspectives on "language". Vol. 2, in Body Language and Mind, by Roslyn M Frank, René
Dirven, Tom Ziemke and Enrique Bernaárdez. Berlin: Mouton de Gruyter.
Kornai, András. 2013. "Digital Language Death." PLOS One 8 (10): 1--11.
PEN International. 1998. Universal Declaration of Linguistic Rights. Barcelona: PEN International. Pennycock, Alastair. 2017. The Cultural Poltics of English as International Language. Routledge. Phillipson, Robert. 1992. Linguistic Imperialism. Oxford: Oxford University Press.
Popel, Martin, Marketa Tomkova, Jakub Tomek, Ondřej Bojar, Jakob Uszkoreit, Zdeněk Žabokrtský, and
Łukasz Kaiser. 2020. "Transforming machine translation: a deep learning system reaches news
translation quality comparable to human professionals." Nature Communications.
Schneider, Edgar W. 2007. Postcolonial English. Cambridge: Cambridge University Press.
Sheldrick, Tom. 2015. "Exclusive poll: 64% oppose compulsory Welsh to age 16." July 10. Accessed October
, 2021. https://www.itv.com/news/wales/2015-07-10/exclusive-poll-64-oppose-compulsory-welsh-to-
age-16.
Skutnabb-Kangas, Tove, Luisa Maffi, and Dave Harmon. 2003. Sharing a world of difference: the earth's
linguistic, cultural and biological diversity. Salt Spring Island, British Columbia, Canada: UNESCO, WWF
and Terralingua.
Tsuda, Yukio. 2008. "English Hegemony and English Divide." China Media Research 4 (1): 47--55.
UNEP. 2004. INDICATORS FOR ASSESSING PROGRESS TOWARDS THE 2010 TARGET: STATUS AND TRENDS
OF LINGUISTIC DIVERSITY AND NUMBERS OF SPEAKERS OF INDIGENOUS LANGUAGES. United
Nations Environment Programme, UN.
United Nations. 2021. UN General Assembly Seventy Fifth Session Agenda Item 129: Multilingualism Report
of the Secretary-General. UN, Geneva: UN.
Wikipedia: Languages used on the internet. Wikipedia. October 14th. Accessed October 30th, 2021.
https://en.wikipedia.org/wiki/Languages_used_on_the_Internet.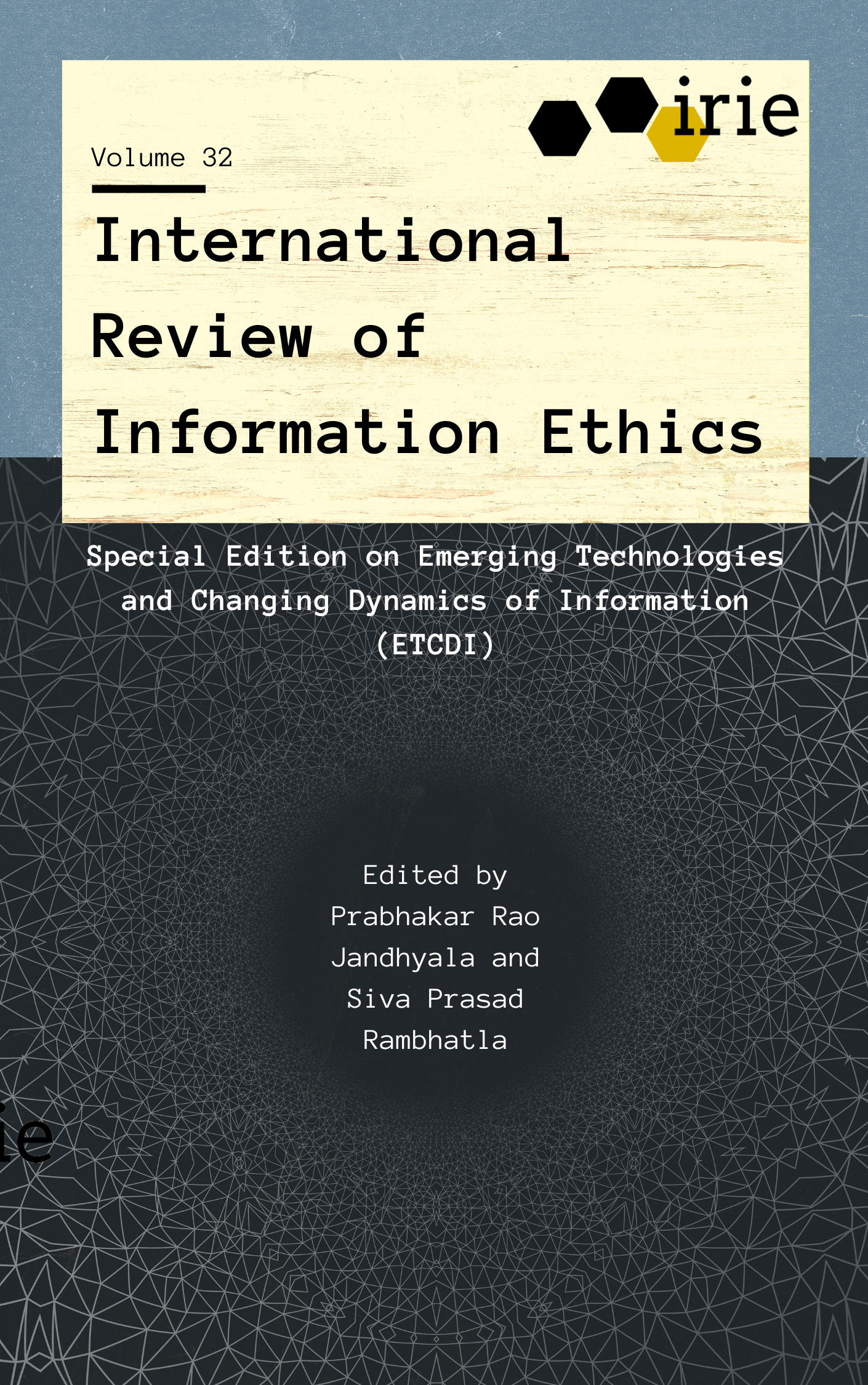 Downloads
How to Cite
Harvey, Richard. 2022. "Multilingualism in Cyberspace: A Practical Reality?". The International Review of Information Ethics 32 (1). Edmonton, Canada. https://informationethics.ca/index.php/irie/article/view/499.