Is ethics evaporating in the cyber era?
Part 2: Feeling framed
Keywords:
Appification, Artificial Intelligence, Digital Technology, Ethics
Abstract
In continuation to the Part 1 published in this volume, this part discusses the oversupply of information and approaches the concerning rights we are alienating to enjoy digital technology. Instead of using the Internet as space for free exchange of ideas, it is being used as a tool for supervision, management, and control. There is an increasing merger of artificial intelligence and machine learning in any sector for analysing, optimizing, and even framing humans. Our digital "buddies" take note of our everyday life, our itinerary, our health parameters, our messages and our content. Big data centres, computer farms are the new "caveau" (Bank Vault) full of "our" data.
References
Bohn, Roger E., & Short, James E. (2009), How Much Information? 2009, Global Information Industry, Center University of California, San Diego.
Burrus, Daniel (2014), Who Owns Your Data?, https://www.wired.com/insights/2014/02/owns-data/
Darrow, Barb (2016), The Question of Who Owns the Data Is About to Get a Lot Trickier, Fortune, http://fortune.com/2016/04/06/who-owns-the-data/
Mayer-Schönberger, Victor (2009), Delete: the virtue of forgetting in the digital age. Princeton University Press. ISBN-13: 978-0691138619
Merriam Webster (nd), Ethic, http://www.merriam-webster.com/dictionary/ethic
My data belongs to me (nd), http://wsa-mobile.org/news/my-data-belongs-me-wsa-roundtable-discussion- personal-data-virtualisation-society-wsis10-review
Protection of personal data in EU (nd), http://ec.europa.eu/justice/data-protection/
https://eur-lex.europa.eu/legal-content/EN/TXT/PDF/?uri=CELEX:32016R0679&from=EN
Ronchi A.M., (2018), Cybertechnology: Use, abuse and misuse, ISBN 978-5-91515-070-X, UNESCO IFAP Interregional Library Cooperation Centre – Moscow, Moscow, Russian Federation
UK Government (nd), UK government service design manual: open data. https://www.gov.uk/service- manual/technology/open-data.html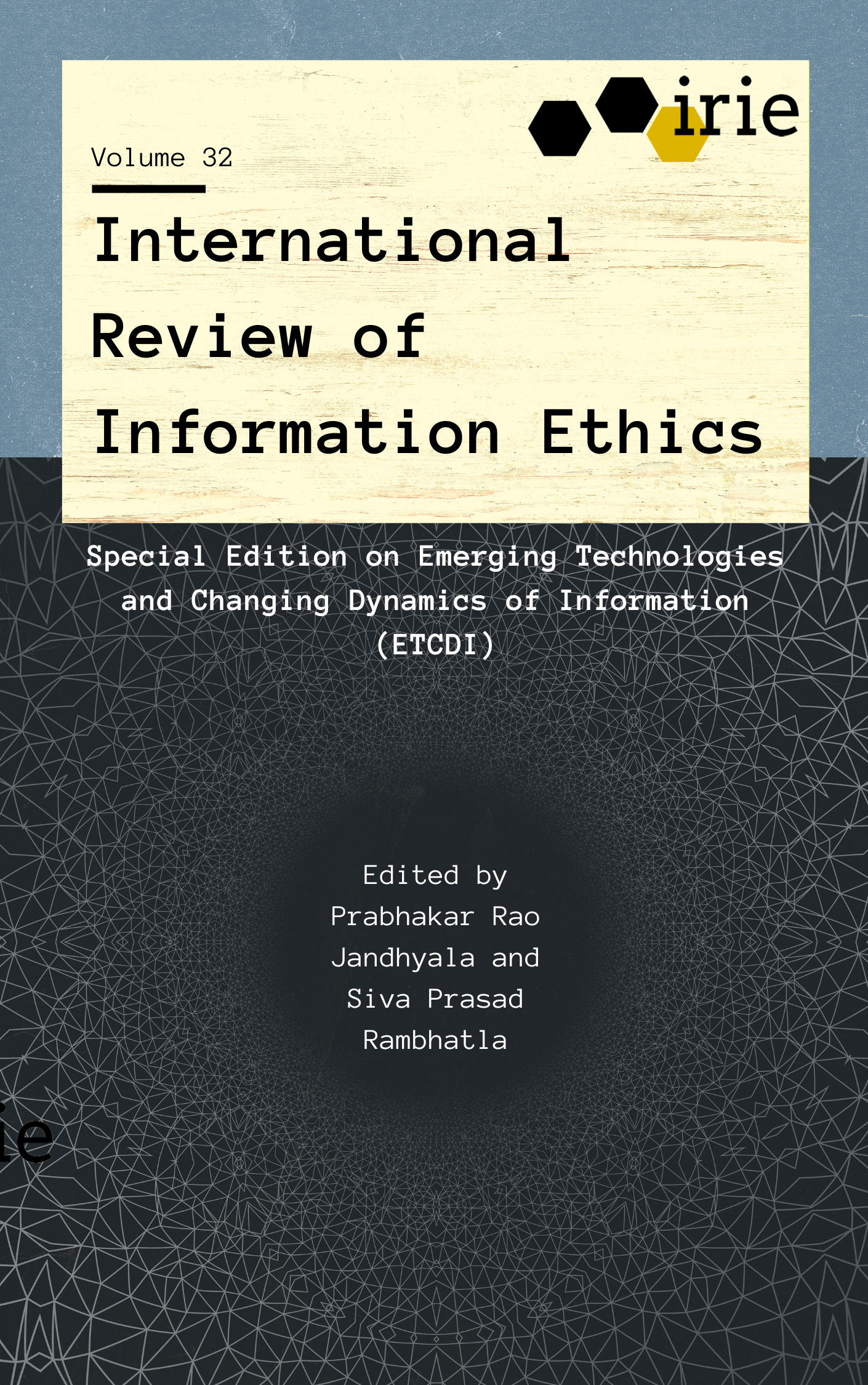 Downloads
How to Cite
M. Ronchi, Alfredo. 2022. "Is Ethics Evaporating in the Cyber Era? : Part 2: Feeling Framed". The International Review of Information Ethics 32 (1). Edmonton, Canada. https://informationethics.ca/index.php/irie/article/view/495.