Desinformação Digital em Rede e Competência Crítica em Informação
Keywords:
Disinformation, Lie, Digital Network Disinformation, Critical Information Literacy
Abstract
The contemporary notion of disinformation bears some resemblance to the Augustinian concept of lying, as it carries with it the intention to deceive. Today, as in the past, several forms of deliberate deception reinforce illusions and prejudices, given that human cognition is deceptive. The novelty is the social impact resulting from the immense capacity for capturing, processing and circulating data of current sociotechnical mediations of information, which operate on the big data scale and whose reach, speed and capillarity make digital network disinformation an unprecedented and alarming phenomenon. The promotion of critical information literacy, which involves the maturation of critical sense, appears as a crucial means to mitigate the problem.
References
Allcott, Hunt e Matthew Gentzkow. "Social Media and Fake News in the 2016 Election." Journal of Economic Perspectives, vol. 31, no. 2, 2017, pp. 211-236. American Economic Association, doi: dx.doi.org/10.1257/jep.31.2.211.
Aristóteles. "Ética a Nicômaco." Aristóteles. Nova Cultural, 1996, pp. 117-320. Os Pensadores.
Asch, Solomon E. "Opinions and social pressure." Scientific American, vol. 193, no. 5, 1955, pp. 31-35, www.lucs.lu.se/wp-content/uploads/2015/02/Asch-1955-Opinions-and-Social-Pressure.pdf. Accessed 12 Ago. 2020.
AVAAZ. "Grupos antivacina já começaram campanha de desinformação contra a vacina do coronavírus: será que isso vai afetar a imunidade de rebanho no Brasil e no mundo?" 2020, https://secure.avaaz.org/campaign/po/desinformacao_vacina_coronavirus/?fbclid=IwAR3Ao7KlZofhoJY9G78RHKfOQTGoxmNw8OC7cbqt3JbLS7gsYQQS8afO10Q. Accessed 22 Aug. 2020.
Bezerra, Arthur Coelho, Marco Schneider e Anna Brisola. "Pensamento Reflexivo e Gosto Informacional: disposição para competência crítica em informação." Informação & Sociedade: estudos, vol. 27, no. 1, 2017, pp. 7-16, www.periodicos.ufpb.br/ojs2/index.php/ies/article/view/31114/17408. Accessed 21 Jun. 2019.
Brisola, Anna e Arthur Coelho Bezerra. "Desinformação e Circulação de Fake News: distinções, diagnóstico e reação." Encontro Nacional de Pesquisa em Ciência da Informação – ENANCIB – XIX. Ed. ANCIB.: 2018, pp. 3316-3330, hdl.handle.net/20.500.11959/brapci/102819. Accessed 28 Apr. 2020.
Brito, Vladimir de Paula e Marta Macedo Kerr Pinheiro. "Poder Informacional e Desinformação." Tendências da Pesquisa Brasileira em Ciência da Informação, vol. 8, no. 2, 2015, www.brapci.inf.br/index.php/article/view/0000019439/c3da84b1b4a9f579534c7afefdba4da5. Accessed 26 Feb. 2019.
Capurro, Rafael. "Desafios teóricos y prácticos de la ética intercultural de la información". 2010, www.capurro.de/paraiba.html. Accessed 21 jun. 2019.
Cardoso, Thaís. "Campanha de desinformação sobre vacina contra covid-19 avança com testes no Brasil." 2020, https://sites.usp.br/iearp/campanha-de-desinformacao-sobre-vacina-contra-covid-19-avanca-com-testes-no-brasil/. Accessed 22 Aug. 2020.
Directorate-General for Communications Networks. "A Multi-Dimensional Approach to Disinformation : Report of the Independent High Level Group on Fake News and Online Disinformation." Photo of Publications Office of the European Union, Publications Office of the European Union, 30 Apr. 2018, op.europa.eu/en/publication-detail/-/publication/6ef4df8b-4cea-11e8-be1d-01aa75ed71a1/language-en. Accessed 22 Apr. 2020.
Eagleton, Terry. O Problema dos Desconhecidos: um estudo da ética, Civilização Brasileira, 2010.
Elder, Linda and Richard Paul. "Critical Thinking Development: A Stage Theory." 1996, https://www.criticalthinking.org/resources/articles/ct-development-a-stage-theory.shtml#:~:text=We%20make%20the%20following%20assumptions,critical%20thinker%2C%20is%20not%20automatic%2C. Accessed 12 Aug. 2020.
Ética Animal. "Raciocínio Motivado e Viés de Confirmação." 2020, https://www.animal-ethics.org/raciocinio-motivado-e-vies-de-confirmacao/. Accessed 07 May. 2020.
Fallis, Don. "The Varieties of disinformation." The Philosophy of information quality, edited by Luciano Floridi and Phyllis Illari, Springer, 2014, pp. 135-161.
Freire, Paulo. Educação Como Prática Da Liberdade. 29 ed., Paz e Terra, 2006.
Froehlich, Thomas J. "A not-so-brief account of current information ethics: the ethics of ignorance, missing information, misinformation, disinformation and other forms of deception or incompetence." Bid: textos universitaris de biblioteconomia i documentación, vol. 12, no. 39, 2017, pp. 1-14, http://bid.ub.edu/pdf/39/en/froehlich.pdf. Accessed 06 Apr. 2020.
Gasque, Kelley Cristine Gonçalves Dias. Letramento Informacional: pesquisa, reflexão e aprendizagem. UnB, 2012, repositorio.unb.br/bitstream/10482/13025/1/LIVRO_Letramento_Informacional.pdf. Accessed 21 Jun. 2019.
Global Disinformation Index Staff. "The Quarter Billion Dollar Question." 2019, disinformationindex.org/wpcontent/uploads/2019/09/GDI_Ad-tech_Report_Screen_AW16.pdf. Accessed 22 Apr. 2020.
Gragnani, Juliana. "Como Comportamento de Manada Permite Manipulação da Opinião Pública por Fakes." BBC Brasil, 2017, www.bbc.com/portuguese/brasil-42243930. Accessed 08 Aug. 2020.
Guzzo, Guilherme Brambatti e Valderez Marina do Rosário Lima. "O Exercício do Pensamento Crítico em Face dos Vieses Cognitivos." Congresso Ibero-americano de Docência Universitária – CIDU – X. Ed. ediPUCRS.; 2018, pp. 1-12, https://ebooks.pucrs.br/edipucrs/acessolivre/anais/cidu/assets/edicoes/2018/arquivos/233.pdf. Acessed 07 Sep. 2020.
Heller, Agnes. O Cotidiano e a História. 11 ed., Paz e Terra, 2016.
Hogg, Michael A. "Mudança Radical: as Incertezas Globais Ameaçam Nosso Senso de Eu." Scientific American, vol. 18, no. 201, 2019, pp. 42-45.
Instituto de Estudos Avançados – Polo Ribeirão Preto, Universidade de São Paulo. União Pró-Vacina, 2020. https://sites.usp.br/iearp/uniao-pro-vacina/. Accessed 24 Aug. 2020.
Moreira, Matheus. "Fake news sobre covid-19 produzidas por grupos antivacina saltam 383%, diz estudo." 2020, https://www1.folha.uol.com.br/equilibrioesaude/2020/08/fake-news-sobre-covid-19-produzida-por-grupos-antivacina-saltam-383-diz-estudo.shtml. Accessed 22 Aug. 2020.
Noelle-Neumann, Elisabeth. A Espiral do Silêncio: opinião pública – nosso tecido social. Estudos Nacionais, 2017.
Olinger, H. N., J. J. Britz e M. S. Olivier. "Western Privacy and Ubuntu: Influences in the Forthcoming Data Privacy Bill." CiteSeerx, 2019, citeseerx.ist.psu.edu/viewdoc/download?doi=10.1.1.117.3533&rep=rep1&type=pdf. Accessed 26 Jun. 2019.
Posetti, Julie e Alice Matthews. "A Short Guide to the History of Fake News and disinformation: a learning module for journalists and journalism educators." International Center for Journalists, 2018, www.icfj.org/sites/default/files/2018-07/A%20Short%20Guide%20to%20History%20of%20Fake%20News%20and%20Disinformation_ICFJ%20Final.pdf. Accessed 03 Aug. 2020.
Rodrigues, Aroldo. Da Inutilidade das discussões: uma perspectiva psicológica. 2018.
Sagan, Carl. O Mundo Assombrado pelos Demônios: a ciência vista como uma vela no escuro. Companhia das Letras, 2006.
Santo Agostinho. A Mentira – Contra a Mentira. Paulus, 2019. Patrística.
Schneider, Marco. "CCI/7: Competência Crítica em Informação (em 7 níveis) como dispositivo de combate à pós-verdade." iKritica: Estudos Críticos em Informação. Garamond, 2019, pp. 73-116.
Seth, Anil K. "Nossos Universos Interiores: a realidade é construída pelo cérebro, e não existem dois cérebros exatamente iguais." Scientific American, vol. 18, no. 201, 2019, pp. 27-33.
Van Bavel, Jay J. e Andrea Pereira. "The Partisan Brain: an identity-based model of political belief." Trends in Cognitive Sciences, vol. 22, no. 3, 2018, pp. 213-224. Elsevier BV, doi: dx.doi.org/10.1016/j.tics.2018.01.004.
Wardle, Claire e Hossein Derakshan. "Information disorder: toward an interdisciplinary framework for research and policy making." Council of Europe, 2017. https://rm.coe.int/information-disorder-toward-an-interdisciplinary-framework-for-researc/168076277c. Accessed 15 Aug. 2020.
Wardle, Claire. "Information disorder: the essential glossary." Havard Kennedy School – Shorestein Center on media, Politics and Public Policy, 2018. https://firstdraftnews.org/wp-content/uploads/2018/07/infoDisorder_glossary.pdf?x20994. Accessed 06 May 2020.
Wardle, Claire. "Uma Nova Desordem Mundial: nossa tendência a compartilhar conteúdo sem refletir é usada para disseminar desinformação." Scientific American, vol. 18, no. 201, 2019, pp. 46-51.
W/Brasil. "Hitler." Folha de São Paulo, 1987, 1:02. Disponível em: https://www.youtube.com/watch?v=pY4FCKlQISA.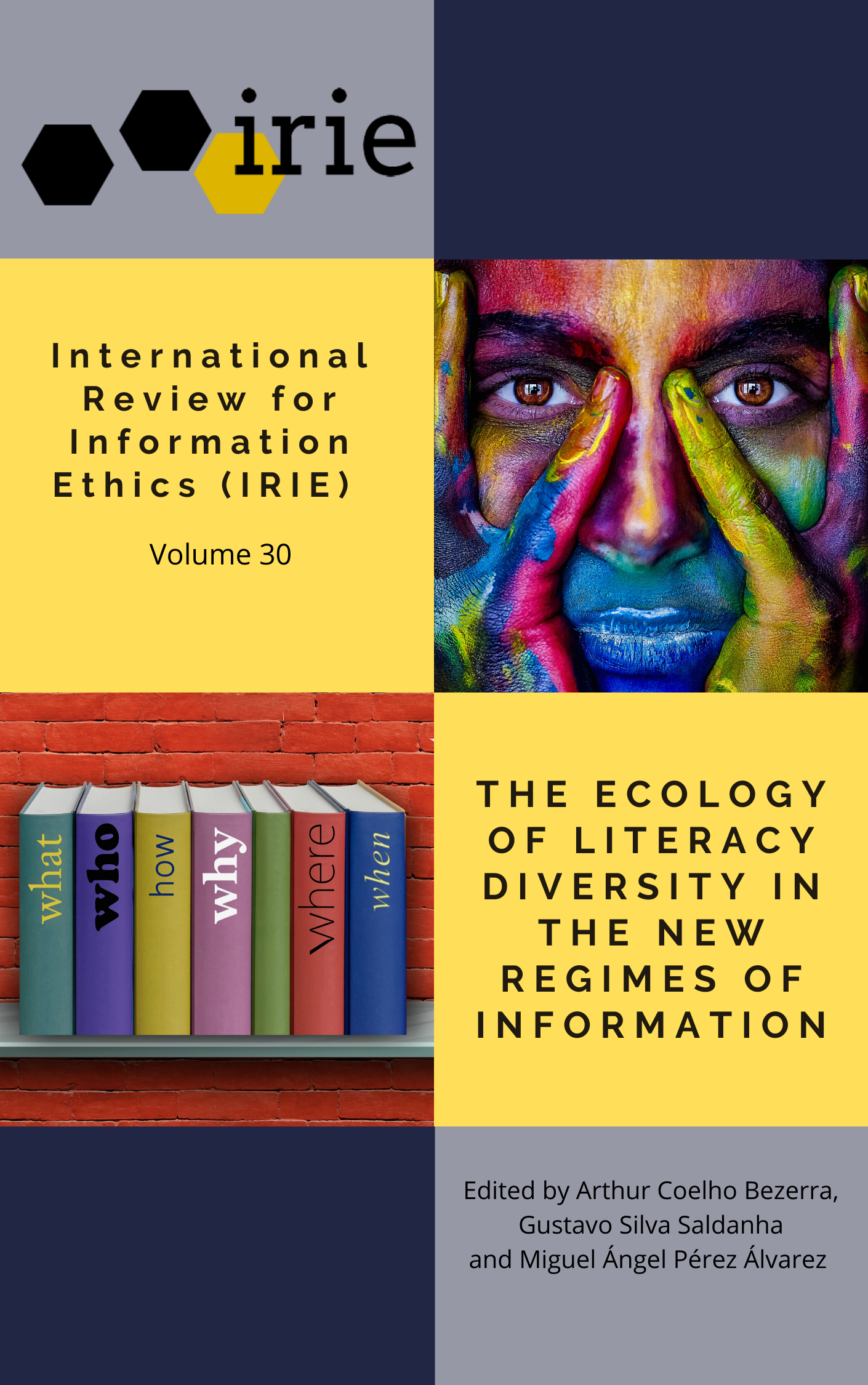 Downloads
How to Cite
Mello, Felipe, and Marco Schneider. 2021. "Desinformação Digital Em Rede E Competência Crítica Em Informação". The International Review of Information Ethics 30 (1). Edmonton, Canada. https://doi.org/10.29173/irie408.