Infodemia, desinformação, pós-verdade
o desafio de conceituar os fenômenos envolvidos com os novos regimes de informação
Keywords:
Infodemia, Pós-verdade, Desinformação, Fake news, Negacionismo científico
Abstract
This article seeks to present the current information regimes by analyzing the concepts used to describe the various contemporary informational phenomena. Seven concepts are analyzed: fake news, bullshit, hate speech, scientific denialism, disinformation, infodemic and post-truth. Next, these phenomena are analyzed from an informational perspective, in their technical, cognitive and pragmatic dimensions. Finally, it is concluded that the actions to combat the perverse effects of such phenomena are urgent, but they demand a work of clarity of the concepts involved in the processes on which one wants to act.
References
Aparici, R. y García-Marín, M. (Coords). (2019). La posverdad: una cartografia de los médios, las redes y la política. Barcelona: Gedisa.
Araújo, C. A. Á. (2020). O fenômeno da pós-verdade: uma revisão de literatura sobre suas causas, características e consequências. Alceu, 21 (41), 35-48.
Argemí, M. (2019). Los siete hábitos de la gente desinformada. Barcelona: Conecta.
Bawden, D. y Robinson, L. (2012). Introduction to information science. London: Facet.
Broncano, F. (2019). Puntos ciegos: ignorancia pública y conocimiento privado. Madrid: Lengua de Trapo.
Casara, R. (2019). A era pós-democrática. Porto: Exclamação.
Consentino, G. (2020). Social media and the post-truth world order: the global dynamics of disinformation. Cham: Palgrave.
Dalkir, K. y Katz, R. (Eds.). (2020). Naviganting fake news, alternative facts, and misinformation in a post-truth world. Hershey: IGI Global.
Eatwell, R. y Goodwin, M. (2019). Nacionalpopulismo: por qué está triunfando y de qué forma es un reto para la democracia. Barcelona: Península.
Ferrari, P (2018). Como sair das bolhas. São Paulo: Educ; Armazém da Cultura.
Frankfurt, H. (2019). On bullshit: sobre a conversa, o embuste e a mentira. Lisboa: Bookout.
Fukuyama, F. (2019). Identidad: la demanda de dignidad y las políticas de resentimiento. Barcelona: Deusto.
Fuller, S. (2018). Post-truth: knowledge as a power game. London: Anthem
Geiselberger, H. (Ed.) O grande retrocesso. Lisboa: Objectiva, 2017.
Gómez de Águeda, Á. Mundo Orwell: manual de supervivencia para un mundo hiperconectado. Madrid: Ariel, 2019.
Greifeneder, R., Jaffé, M., Newman, E. y Schwarz, N. (Eds.). (2021). The psychology of fake news: accepting, sharing, and correcting misinformation. London: Routledge.
Kakutani, M. (2019). La muerte de la verdad: notas sobre la falsedad en la era Trump. Barcelona: Galáxia Gutemberg.
Keen, A. (2008). O culto do amadorismo. Lisboa: Guerra e Paz.
Krieger, M., Finatto, M. J. (2004). Introdução à terminologia: teoria & prática. São Paulo: Contexto.
Linares Columbié, R. (2005). Ciencia de la información: su história y epistemología. Santa Fé: Rojas Eberhard.
McIntyre, L. (2018). Posverdad. Madrid: Cátedra.
Murolo, L. La posverdad es mentira. Un aporte conceptual sobre fake news y periodismo. In: APARICI, R.; GARCÍA-MARÍN, M. (Coords). La posverdad: una cartografia de los médios, las redes y la política. Barcelona: Gedisa, 2019, p. 65-80.
Naeem, S.; BHATTI, R. (2020). The Covid-19 'infodemic': a new front for information profesionals. Health Information and Libraries Journal, 37(3), 233-239.
Noble, S. U. (2018). Algorithms of oppression: how search engines reinforce racism. Nova Iorque: New York University Press.
O'Connor, C. y Weatherall, J. (2019). The misinformation age: how false beliefs spread. New Haven: Yale University Press.
Pellicer Alapont, M. P. La comunicación en la era Trump. Barcelona: UOC, 2017, p. 15-18.
Peters, M., Rider, S., Hyvönen, M. y Besley, T. (Eds.) (2018). Post-truth, fake news, viral modernity & higher education. Singapore: Springer.
Santaella, L. (2019). A pós-verdade é verdadeira ou falsa? Barueri: Estação das Letras e Cores.
Serrano Oceja, J. F. (2019). La sociedad del desconocimiento: comunicación posmoderna y transformación cultural. Madrid: Encuentro.
Wilber, K. (2018). Trump y la posverdad. Barcelona: Kairós.
Zarocostas, J. (2020). How to fight an infodemic. The Lancet, 395(10225), p.676. doi: 10.1016/S0140-6736(20)30461-X.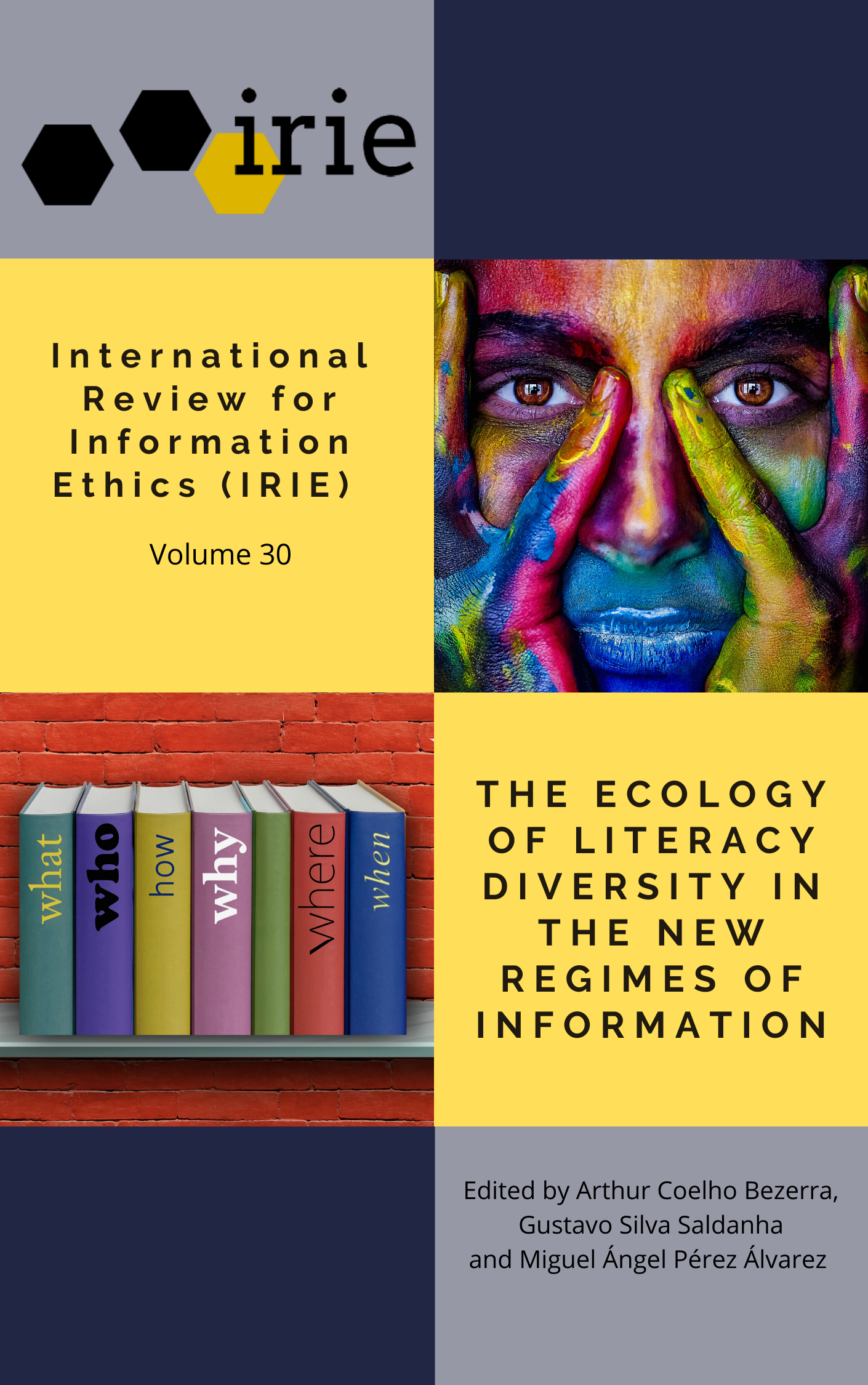 Downloads
How to Cite
Araújo, Carlos Alberto Ávila. 2021. "Infodemia, desinformação, pós-Verdade: O Desafio De Conceituar Os fenômenos Envolvidos Com Os Novos Regimes De informação". The International Review of Information Ethics 30 (1). Edmonton, Canada. https://doi.org/10.29173/irie405.